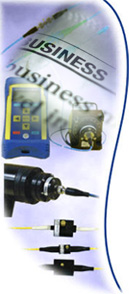 For Immediate Release
OZ Optics Limited's Online Catalog

DRAFT RELEASE - Version 1.0

Ottawa, Canada - February 3, 2014
OZ Optics Limited is pleased to announce our new ONLINE CATALOG (shop.ozoptics.com)

- THOUSANDS OF FIBER OPTIC PRODUCTS IN STOCK
- STOCK ITEMS ARE SHIPPED WITHIN 1 OR 2 BUSINESS DAYS
- EXCESS INVENTORY AS MUCH AS 75% OFF

It provides you an easier and faster way to do business. We offer thousands of fiber optic products available from stock, ready to ship within one or two business days. In addition, we have some real bargains available, at up to 75% off the original price.

This catalog is the culmination of months of hard work. It incorporates many suggestions from people like you. We made it easier for you to find the information you need, including specifications, drawings, and especially price and delivery.

Since this online catalog is a new undertaking, there is still room for improvement. We are working hard to add missing photos and drawings. If there is specific information that you require, please contact us (Email: onlinesales@ozoptics.com, Toll Free: 1-800-361-5415 (North America), Tel: +1-613-831-0981) and we will add it to our online catalog.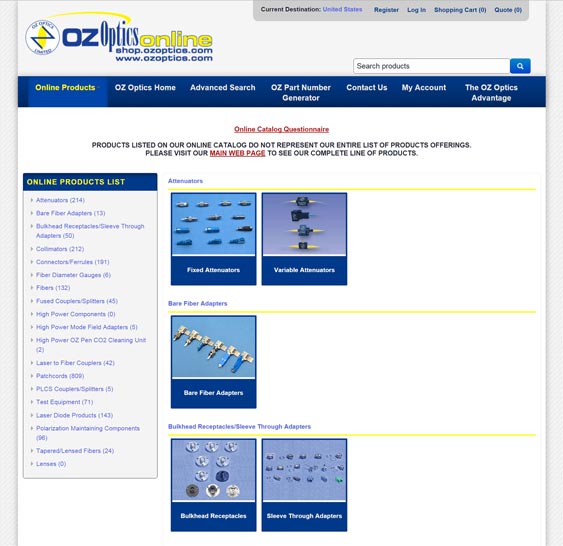 About OZ Optics Limited



Founded in 1985, OZ Optics Limited designs, manufactures and markets fiber optic components for existing and next-generation optical networks and systems based on proprietary technology, trade secrets and patents. OZ Optics' products enable customers to develop optical networking systems that transmit data reliably at increasing data rates. OZ Optics also designs and manufactures handheld test and measurement equipment for the fiber optic market. The Company's state-of-the-art design capabilities enable OZ Optics to rapidly deliver a broad range of high-quality products to meet customer specifications and requirements. OZ Optics has received ISO 9001:2015 certification. For more information about OZ Optics Limited and the products, visit www.ozoptics.com

OZ Optics contact:
Ömür Sezerman

219 Westbrook Road
Ottawa, ON K0A 1L0
Canada
Tel: 613-831-0981 x3309
Fax: 613-836-5089
Toll-free: 1-800-361-5415
E-mail: OSezerman@ozoptics.com