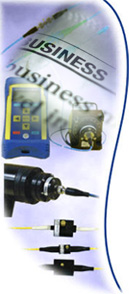 For Immediate Release
Benchtop Polarization Extinction Ratio Meters

DRAFT RELEASE - Version 1.0

Ottawa, Canada - February 1, 2016
OZ Optics Limited, a global supplier of fiber optic products for all applications, has introduced a new line of bench-top test instruments. These instruments feature premium performance and features, making them ideal for polarization maintaining component and device testing. Touch screen interfaces, built-in memory and USB 2.0 communication/controls give the user the functionality to streamline and automate the measurement process, while offering unprecedented accuracy.

The Polarization Extinction Ratio (ER) Meter analyzes light from a fiber, and reports the polarization extinction ratio of the light, in dB, as well as the orientation of the polarization with respect to the connector key on the fiber. Extinction ratios of up to 50dB can be measured, and the orientation can be determined with 0.3 degree resolution.

The meter operates in two modes, real time and test. In real time mode, the meter reports the current polarization, updating the result several times per second. This mode is ideal for aligning optics. The second mode, test, monitors the output polarization over an extended interval while the fiber or device is subjected to stress. This mode is used for quality testing of the fiber. This makes it ideal for a manufacturing or testing station.

ER meters are available for operating wavelengths ranging from as short as 450nm to as long as 2400nm. An optional attenuator allows measurements with output powers as large as 2 watts. Various connector interfaces, including FC, SC, LC, and E2000 connectors are offered, and can be easily interchanged by the user. For detailed specifications and additional information about these and other products, visit www.ozoptics.com.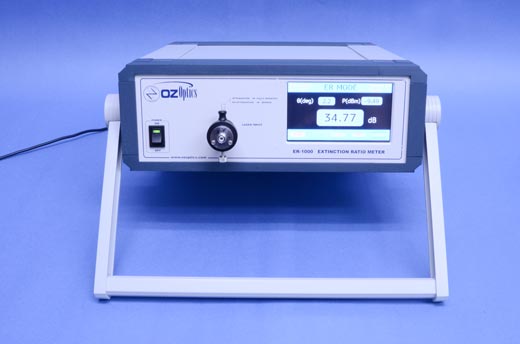 About OZ Optics Limited



Founded in 1985, OZ Optics Limited designs, manufactures and markets fiber optic components for existing and next-generation optical networks and systems based on proprietary technology, trade secrets and patents. OZ Optics products enable customers to develop optical networking systems that transmit data reliably at increasing data rates. OZ Optics also designs and manufactures handheld test and measurement equipment for the fiber optic market. The Company's state-of-the-art design capabilities enable OZ Optics to rapidly deliver a broad range of high-quality products to meet customer specifications and requirements. OZ Optics is ISO 9001 certified. For more information about OZ Optics Limited and our products, visit www.ozoptics.com

OZ Optics contact:
Ömür Sezerman

(613) 831-0981, ext. 3309
OSezerman@ozoptics.com