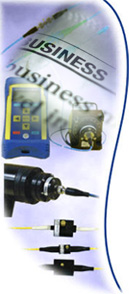 For Immediate Release
OZ Optics Makes Short List of Nominees for BSI Canada's Award of Excellence

DRAFT RELEASE - Version 1.0

Ottawa, Canada – May 12, 2017
OZ Optics has received recognition from BSI Canada for making the top 10 nominee short list for their top honor, the 2016 BSI Award of Excellence that is presented every year. The companies that are considered for this award best exemplifies a world class quality system demonstrated by way of yearly audit results and company achievements. This award gives companies bragging rights to among the best Quality Systems in the Country. It also guarantees the winning company and top companies nominated to be displayed prominently on the BSI Canada Website for the full year until next year's award is presented. BSI is one of the largest Registrars in the world and has issued more than 35,500 registrations in over 90 countries.

BSI Canada created the Award of Excellence in 2011 to recognize customers who have demonstrated a culture of excellence and continual improvement in their business.


BSI Canada announces 2016 Award of Excellence nominees

Toronto — May 2, 2017

Ten companies have been named as nominees for the 2016 BSI Award of Excellence. BSI Group Canada Inc. is a division of the world's first National Standards Body and the leading provider of choice for ISO transition in Canada.

"2016 was a very busy year because of the transition periods for the revised ISO 9001 and ISO 14001. The radical transformation in some of the standards means there are new demands on management as risk takes centre stage." said Anne-Marie Pizzitelli, Head of Communications at BSI Group Canada. "Organizations need to be able to prepare for, respond and adapt to incremental changes and sudden disruptions. Success will involve a combination of strategic adaptability, agile leadership, robust governance, and organizational resilience."








About OZ Optics Limited



Founded in 1985, OZ Optics Limited designs, manufactures and markets fiber optic components for existing and next-generation optical networks and systems based on proprietary technology, trade secrets and patents. OZ Optics products enable customers to develop optical networking systems that transmit data reliably at increasing data rates. OZ Optics also designs and manufactures handheld test and measurement equipment for the fiber optic market. The Company's state-of-the-art design capabilities enable OZ Optics to rapidly deliver a broad range of high-quality products to meet customer specifications and requirements. OZ Optics is ISO 9001 certified. For more information about OZ Optics Limited and our products, visit www.ozoptics.com

OZ Optics contact:
Ömür Sezerman

(613) 831-0981, ext. 3309
OSezerman@ozoptics.com