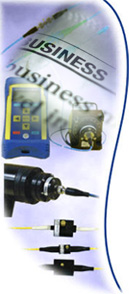 For Immediate Release
Dr. Kenneth Hill Joins OZ Optics Limited

Ottawa, ON - November 5, 2001
OZ Optics Limited, a world leading supplier of fiber optic products for existing and next-generation optical networks, welcomes Dr. Kenneth Hill to the research team.

Dr. Hill spent the first 32 years of his career as a research scientist with the Communications Research Centre, and most recently, he was the Chief Scientist at Zenastra Photonics Inc. During his scientific career, Dr. Hill has made significant contributions to the development of fiber optic communications technology. Example contributions are in the fields of nonlinear effects in optical fibers, passive optical fiber devices, modal noise in optical fiber links and photosensitivity in optical fibers.

"Dr. Hill is a pioneer in optical fiber communications," said Ömür Sezerman, President and CEO of OZ Optics. He added, "His experience and leadership in photonics is a definite asset to our organization."

Dr. Hill has received many awards throughout his career.


In 1991, Dr. Hill was raised to the rank of Fellow in the Optical Society of America (OSA). He was cited for contributions to fused fiber optical couplers, photosensitivity in fibers, novel fiber-based devices and nonlinear effects in fibers
In 1995, Dr. Hill received the 1995 Manning Principal Award for the discovery of photosensitivity in optical fibers and for his pioneering work in optical fiber communications
In 1996, Dr. Hill received the 1996 Tyndall Award from the IEEE Lasers & Electro-Optics Society and the Optical Society of America. The citation for the award read as follows: "For the discovery of photosensitivity in optical fibers and its application to Bragg gratings used in device applications in optical communications and sensor systems."
In 1998, Dr. Hill received the Canadian Association of Physicists and the National Optics Institute Medal for Outstanding Achievement in Applied Photonics
About OZ Optics Limited



Founded in 1985, OZ Optics Limited designs, manufactures and markets fiber optic components for existing and next-generation optical networks and systems based on proprietary technology, trade secrets and patents. OZ Optics' products enable customers to develop optical networking systems that transmit data reliably at increasing data rates. OZ Optics also designs and manufactures handheld test and measurement equipment for the fiber optic market. The Company's state-of-the-art design capabilities enable OZ Optics to rapidly deliver a broad range of high-quality products to meet customer specifications and requirements. OZ Optics has received ISO 9001:2000 certification. For more information about OZ Optics Limited and the products, visit http://www.ozoptics.com

OZ Optics contact:
Ömür Sezerman

219 Westbrook Road
Ottawa, ON K0A 1L0
Canada
Tel: 613-831-0981 x3309
Fax: 613-836-5089
Toll-free: 1-800-361-5415
E-mail: OSezerman@ozoptics.com