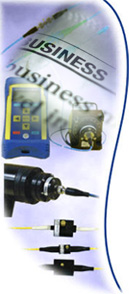 For Immediate Release
Hermetically Sealable Patchcords with Built-in Optical Taps/Power Monitors

DRAFT RELEASE - Version 3.0

Ottawa, Canada - Feb 10, 2004
OZ Optics has produced hermetically sealable patchcords with inline optical taps, enabling one to build hermetically sealed devices with optical taps for internal feedback. This technology will enable the next generation of components to be developed with ultra stable output powers, all at a fraction of the cost of discrete optical taps and feedback circuitry.

Using a revolutionary, patent pending process, optical taps are written directly into the optical fiber, to extract a small portion of the light for power monitoring. The result is an extremely compact tap that can be directly integrated into device packages such as laser diodes, modulators, attenuators, MEMS systems, and others. The optical taps are produced with a unique technology that is completely automatable, allowing optical taps to be added to hermetic patchcords at very low cost. Hermetic patchcords based on either glass or metal solders can have inline optical taps added. Custom assemblies can be made for OEM applications.

Standard optical taps are unidirectional in nature, providing an output signal for light propagating in the forward direction, but not in the reverse direction. This is ideal when one wants to measure the power in one direction, independent of any reflected or returning signals. Bidirectional taps can also be produced when needed. Contact an OZ Optics representative for technical details.







About OZ Optics Limited



Founded in 1985, OZ Optics Limited designs, manufactures and markets fiber optic components for existing and next-generation optical networks and systems based on proprietary technology, trade secrets and patents. OZ Optics' products enable customers to develop optical networking systems that transmit data reliably at increasing data rates. OZ Optics also designs and manufactures handheld test and measurement equipment for the fiber optic market. The Company's state-of-the-art design capabilities enable OZ Optics to rapidly deliver a broad range of high-quality products to meet customer specifications and requirements. OZ Optics has received ISO 9001:2015 certification. For more information about OZ Optics Limited and the products, visit www.ozoptics.com

OZ Optics contact:
Ömür Sezerman

219 Westbrook Road
Ottawa, ON K0A 1L0
Canada
Tel: 613-831-0981 x3309
Fax: 613-836-5089
Toll-free: 1-800-361-5415
E-mail: OSezerman@ozoptics.com