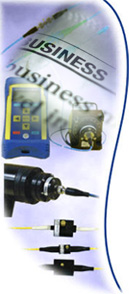 For Immediate Release
Fiber Optic Fault Finder for Optical Network Safeguard™

FINAL RELEASE - Version 3.0

Ottawa, Canada - July 21, 2006
OZ Optics is pleased to announce the release of the Fiber Optic Fault Finder for Optical Network Safeguard (OZ-Guard™). The OZ-Guard™ Fiber Optic Fault Finder is a cost effective, easy-to-use OTDR-type device that provides continuous monitoring of fiber optic network health. The device detects and pinpoints the GPS coordinates of bad connections, fiber bends, broken fibers and other problems that can lead to reduced network performance or service failure. The Fiber Optic Fault Finder combines powerful fault detection and communications capabilities (including wireless) in a compact package and is a key element of the Optical Network OZ-Guard™ total system solution. Remote access capability allows secure monitoring of network operating conditions using a smart phone, PDA, or computer from virtually anywhere.

The OZ-Guard™ Fiber Optic Fault Finder is bundled with a Java-based software package capable of gathering raw fault location data, transforming that data into actionable information and serving it up via text message, email, instant message and the web. Escalating alarms, starting with the field engineer and rising to any level specified by the network operator, are a standard feature of the software. The software is available as a hosted web service or for integration into customer NOCs.

The OZ-Guard™ Fiber Optic Fault Finder enables fiber optic network operators to increase field engineer efficiency, improve network and service availability and achieve a higher overall return on investment (ROI) from fiber optic networks. Networks suitable for monitoring by the Fiber Optic Fault Finder include FTTX access networks, backbone and metro transport networks, enterprise fiber networks, and multi-service operator (MSO) networks including hybrid fiber/coax (HFC) networks.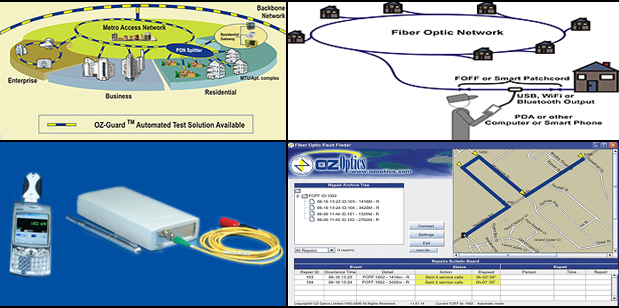 About OZ Optics Limited



Founded in 1985, OZ Optics Limited designs, manufactures and markets fiber optic components for existing and next-generation optical networks and systems based on proprietary technology, trade secrets and patents. OZ Optics' products enable customers to develop optical networking systems that transmit data reliably at increasing data rates. OZ Optics also designs and manufactures handheld test and measurement equipment for the fiber optic market. The Company's state-of-the-art design capabilities enable OZ Optics to rapidly deliver a broad range of high-quality products to meet customer specifications and requirements. OZ Optics has received ISO 9001:2015 certification. For more information about OZ Optics Limited and the products, visit www.ozoptics.com

OZ Optics contact:
Ömür Sezerman

219 Westbrook Road
Ottawa, ON K0A 1L0
Canada
Tel: 613-831-0981 x3309
Fax: 613-836-5089
Toll-free: 1-800-361-5415
E-mail: OSezerman@ozoptics.com