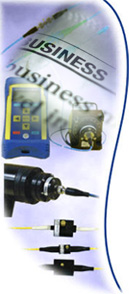 For Immediate Release
HIGH POWER ISOLATORS/COLLIMATORS DRAFT RELEASE - Version 1.0 Ottawa Canada – May 29, 2008
OZ Optics is pleased to announce that we are now offering up to 50W power handling 1064nm isolators at very competitive prices.
Up to 50W design is available as free-space version
Up to 30W design is offered with Large Mode Area (LMA) Single Mode (SM) fiber pigtail on one side and collimated free-space beam on the other side
Both Polarization Dependent and Independent versions are offered with SM and Polarization Maintaining (PM) fiber pigtails subject to the power handling requirements
The high power isolator product line also extends to the 1300-1650nm wavelength range.
Other related high power products include Large Mode Area fiber collimators, high power handling SM, PM and MM fiber patchcords, shutters, and sleeve thru adaptors with safety interlocks
One common enabling feature which is used in OZ Optics' high power isolator designs and other high power handling OZ Optics' products that enables achievement of high power handling fiber, is the use of coreless fiber endcaps specially treated fiber ends for high power handling.
About OZ Optics Limited

Founded in 1985, OZ Optics Limited designs, manufactures and markets fiber optic components for existing and next-generation optical networks and systems based on proprietary technology, trade secrets and patents. OZ Optics products enable customers to develop optical networking systems that transmit data reliably at increasing data rates. OZ Optics also designs and manufactures handheld test and measurement equipment for the fiber optic market. The Company's state-of-the-art design capabilities enable OZ Optics to rapidly deliver a broad range of high-quality products to meet customer specifications and requirements. OZ Optics has received ISO 9001:2000 certification. For more information about OZ Optics Limited and the products, visit www.ozoptics.com OZ Optics Contact:
Ömür Sezerman 219 Westbrook Road
Ottawa, ON K0A 1L0
Canada
Tel: 613-831-0981 x3309
Fax: 613-836-5089
Toll free: 1-800-361-5415
E-mail: omur@ozoptics.com