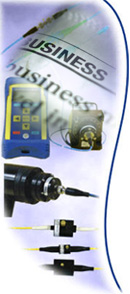 Canada and China Enhance Trade Relations with New Joint Research, Business and Development Projects

Minister Van Loan says new contracts will expand trade with China
(No. 180 - June 2, 2010 - 3:40 p.m. ET) New partnerships in research, business and development have been forged between Canada and China, announced the Honourable Peter Van Loan, Minister of International Trade, during his visit to China. While in Shanghai, Minister Van Loan witnessed the signing of eight contracts and agreements worth more than $4.5 million at a signing ceremony held at the Expo 2010 Canada Pavilion.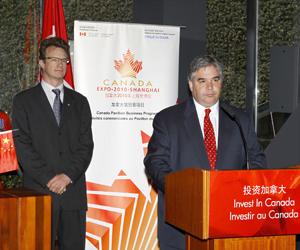 Minister Van Loan at the Canada Pavilion Business Program Signing Ceremony, Expo 2010 Shanghai.
"These agreements represent commitments to partner in developing complex and high-tech projects in areas such as high-speed rail, urban transit, IMAX theatre and fibre optics," said Minister Van Loan. "Canadian and Chinese researchers and businesses are stepping up to the plate and building on our already-robust relationship in trade, research and technology."

The contracts signed today forge partnerships between China and four Canadian companies, as well as National Research Council of Canada's Centre for Surface Transportation Technology.

"These companies are leading the way in expanding the Canada-China commercial relationship," said Minister Van Loan. "And the Trade Commissioner Service of Canada is ready to help them succeed and grow their partnership activities even beyond those represented in today's announcements."

The four Canadian companies are:

B+H Architects, one of Canada's largest and longest established architectural practices. Its Shanghai office signed an agreement with the Moon and Star Group to design a shopping centre in the Taicang district of Jiangsu Province. The contract is valued at $500,000.

OZ Optics Limited, a leading worldwide supplier of fibre optic products. OZ Optics has committed to establishing a new plant in the Jiaxing Economic Development Zone. The Ottawa-based company sells products to a broad range of customers in the telecommunications, cable television, medical, military, industrial and educational sectors. The Jiaxing contract is worth $2 million.

IMAX Corporation is partnering with Stellar Media to open two theatres in Shanghai in July at the Super Brand Mall and another one in Beijing next year. IMAX is a leader in entertainment technology, specializing in immersive motion picture technologies, and Stellar Media is a vertically integrated entertainment company in China. The value of the contract with Stellar Media is estimated at over $2 million.

Xebec Adsorption Inc. signed a framework agreement with Qingdao Tianren Environmental Engineering Co., Ltd. of China to produce vehicle-quality compressed natural gas from waste material. Based in Blainville, Quebec, Xebec specializes in the design and manufacture of cost-effective, environmentally responsible purification, separation, dehydration and filtration equipment for gases and compressed air.

National Research Council Canada's Centre for Surface Transportation Technology (NRC-CSTT) is pursuing two research projects with Southwest Jiaotong University and one each with Tongji University's Institute of Railway and Urban Rail Transit, and Qiqihar Railway Rolling Stock (Group) Co., Ltd. NRC-CSTT provides world-class surface transportation development and testing services for the rail and road transportation industries.

"Railways play an important part in the economies of both our countries," said Minister Van Loan. "Railways have played an important nation-building role in Canada, and our government is proud to showcase Canadian railway engineering expertise in China and around the world."

For more information, please see Announcements - New Canada-China Rail Research Contracts Demonstrate Importance of Trade and Investment with China.

For more details on Minister Van Loan's visit to China and Japan, please consult Minister Van Loan visits Asia.

Download a high resolution version of this photo

- 30 -

For further information, media representatives may contact:

Monika Bujalska
Press Secretary
Office of the Honourable Peter Van Loan
Minister of International Trade
613-992-9304

Trade Media Relations Office
Foreign Affairs and International Trade Canada
613-996-2000