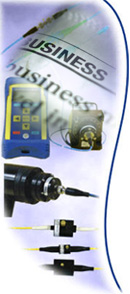 For Immediate Release
IEEE Honours OZ Optics as Outstanding Technology Company

Ottawa, Canada - November 23, 2015
The Institute of Electrical and Electronics Engineers Inc. Ottawa Chapter has awarded OZ Optics Ltd. 2015 Year of Light Outstanding High Technology Company.

"OZ Optics was selected for its leading design and manufacturing capabilities of a broad range of high-quality next generation fiber optic components," said Dr. Wahab Almuhtadi, P.Eng., Award and Recognition Committee Chair, at the award ceremony held at the Shaw Centre on November 6, 2015.

"We thank the selection committee for choosing us, and our customers and partners for making us worthy of this award," said Mr. Garland Best, OZ Optics Vice President of Components, who accepted the award on behalf of the company. "We look forward to bring the future to light."

Mr. Best credited the 30-year success of OZ Optics to three reasons:
OZ Optics recognized from the very beginning that fiber optics is a tool to deliver light, no matter what industry;
OZ Optics always works with the customers to generate new and innovative products, no matter how small the market; and
OZ Optics is always willing to be the early adopter of new ideas and technologies.
Based on these three ideas, OZ Optics has built a company with customers across the globe in telecom, industrial lasers, biophotonics, optical sensors used for infrastructure and oil and gas.

"We were and are leaders in polarization fiber optics. We use non-linear optics, like Brillouin scattering for fiber sensors. And we are one the only companies in the world to use Femtosecond lasers for manufacturing," said Mr. Best.

OZ Optics Ltd. was founded in 1985 by Omur and Zahide Sezerman. From its humble beginnings of the two founders working from home, OZ Optics has grown to be a leading company in its field with 300 employees in Canada and 400 employees worldwide. OZ Optics has won numerous awards from a variety of Canadian and International organizations over its 30-year history.

The Institute of Electrical and Electronics Engineers Inc. (IEEE) is a non-profit, technical professional association of more than 385,000 worldwide.

OZ Optics contact:
Yesim Sezerman
613-831-0981 ext. 3370
sales@ozoptics.com